Growing up on a farm in Pennsylvania, my grandparents and my parents taught me to have respect for nature, plants, and the land as they kept us healthy and the responsibility of protecting them lies with each one of us.
This year's theme for Earth Day is Invest in Our Planet. The idea behind the theme is to encourage governments, corporations, and private citizens to take concrete steps toward following more sustainable practices, buying from greener companies, and taking more of an active role in the Earth's wellbeing. (source) Overall, the important thing is to get outside to enjoy and appreciate our beautiful planet!
Here are some ideas on how you can celebrate Earth Day, which is always celebrated on April 22.
1. Support the Bees and Pollinators
Make your garden a natural habitat for bees and other pollinating creatures. One way to do this is by selecting the right plants.
While I appreciate the work that bees do and know that they are an endangered species, I would rather not have them in my yard where they could sting Aubree. I can, however, support the butterflies and hummingbirds by providing these beautiful plants to attract them.
Package of 80,000 Wildflower Seeds
Hummingbird & Butterfly Wild Flower Seeds Collection - 23 Varieties of Pure Non-GMO Flower Seeds for Planting Including Milkweed, Nasturtium, and Forget Me Not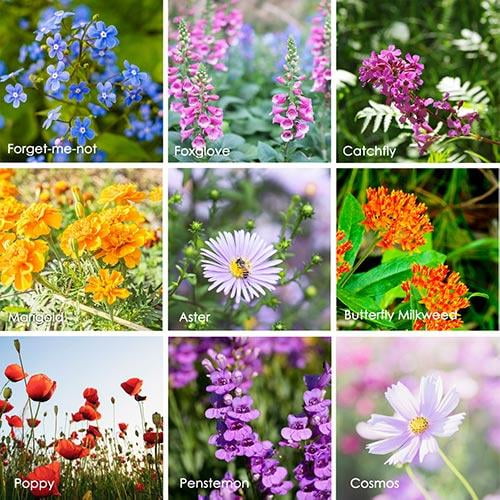 We earn a commission if you make a purchase, at no additional cost to you.
2. Clean Up Your Neighborhood or Local Park
One of the best ways to connect with the Earth is through cleanups! Richmond, VA has 30 cleanup dates scheduled from 8:00 AM to 12:00 PM from March 12 through November 19, 2022, if you live in the area and want to participate. If you would rather do your own thing, grab a trash bag and help clean up any plastic and trash that you find. Don't forget to recycle what you do find!
3. Swap Out Your Kitchen and Household Products!
Let's talk about the cooking and cleaning products that touch the food we eat as well as our skin. This year, we've discovered a line of kitchen and household products called "If You Care." Everything's biodegradable and does not use chemicals or plastic. Think 100% recycled aluminum foil, chemical-free parchment paper for baking, compostable bags made with potato starch, and even vegetable-based inks for their packaging. One of my favorites is their automatic dishwasher tablets – will definitely be ordering these to help the impact on aquatic life!
If You Care Products
The mission at "If You Care" has always been to create the most environmentally-friendly kitchen and household products, providing you and your family with high-quality, highly effective alternatives. They proudly offer a full line of products that are good for the environment, your cooking, and your health.
We earn a commission if you make a purchase, at no additional cost to you.
4. USE Attitude Products
An astonishing 8 million tons of plastic are thrown into the ocean every year. Brands are noticing and making a much-needed change.
Our friends at ATTITUDE are among the ones leading the way by launching their new leaves barsTM line, all plastic-free and kinder to our bodies and the planet. The solid formulas for personal care are the epitome of eco-responsibility paired with efficiency. 
The leaves barsTM collection features zero-plastic solid beauty bars for your daily skin and hair care routines. Everything is crafted to offer maximum results with minimal ingredients, enriched with super leaves extracts, and packaged in luxuriously designed compostable cardboard boxes.
These naturally-scented products with indulgent fragrances will quickly become your go-to for your clean wellness regimen, resulting in glowing skin and lustrous hair. The minimalistic size is a space saver and perfect for travel.
Wouldn't it be great if we could eliminate plastic from most of our daily products? ATTITUDE is well on its way to doing just that with their latest line.
We earn a commission if you make a purchase, at no additional cost to you.
There are so many different products you can purchase from ATTITUDE that will help save our planet. I can't recommend them high enough – they really are THAT GOOD!
5. PLANT A TREE!
We love our trees! They capture carbon, cool overheated places, benefits agriculture, support pollinators, reduce the risk of disease transmission, and boost local economies. Did you know that planting one oak tree brings in more insect and bird species than an entire yard of plants? More and more organizations and businesses are donating a percentage of their profits to plant trees all over the world, but that doesn't mean we can't do more! Talk to your local government about planting more trees and native garden beds in public spaces or consider planting your own on your property!
Another way to make a difference is to ditch printed catalogs. When you receive an unwanted catalog in the mail (especially those huge ones!), contact the company and ask to be removed from their print list and opt instead for an online catalog. The same with your local newspaper. Most news outlets have a digital version of their printed paper – subscribe to that and read the paper when you want, where you want, without having to drag it along with you.
6. Use Wildflowers and Native Plants
Wildflowers and indigenous species are not only beautiful but also attract native and beneficial insects that improve both pest control and pollination—meaning bigger flowers and bigger harvests. Try to simply add a couple of native plants to your garden each year, and you'll be amazed at the difference—they'll bring in pollinators as well as birds!
Here's more about native plants, why they matter, and a plant list.   
7. Reduce, Reuse, Recycle in the Garden
Caring about yourself and nature means being less wasteful and saving money, too. Who could argue with this? If you are a gardener, here are just a few ideas:
Buy in bulk
Make your own compost or contact your city recycling center – they may offer free compost, soil, sand, or other materials you may need.
Reuse, recycle or return old plastic pots and trays. There are a variety of ways to reuse pots and containers, and quite a few ways

to

repurpose common household items to use in the garden

—and save money!

Buy biodegradable pots and plant them right in the ground!
8. Think About Your Diet!
About one-third of the food that we produce every year goes to waste annually, and it is usually food that we've purchased and brought home. How do we improve our diet to make it healthier for ourselves and the planet? Here are just a few things that I've implemented in my home:
use metal straws that can be used over and over
stop using plastic bags, use reusable bags
buy Fair Trade foods
use reusable bags
grow your own lettuce, onions, fruits & vegetables
compost leftovers
shop seasonal and local food markets
buy eggs from a friend who has chickens or raise some yourself
try Meatless Mondays in your home
As you can see, there are SO MANY ways in which we can each do our small part to take an active role in saving our planet. The Earth is not indestructible – and it truly does take everyone working together to keep our planet alive and thriving for many more years to come.
Leave a comment below and let us know how you will be celebrating Earth Day this year!
Hits: 9