If there is one thing that everyone in the United States is talking about right now, it is this Sunday's Super Bowl LII featuring the Philadelphia Eagles and the New England Patriots. Being a born-and-raised Pennsylvania gal, you know who I'm going to be rooting for!
If there is one thing the Super Bowl is known for, it is awesome tailgating food parties. So what better way to celebrate this year's game then by sharing some authentic Philly-style food for your game day celebration?
Authentic Philly Cheesesteak
There are many ways to cook a Philly Cheesesteak. Here's a play by play of how to cook up the Classic Philly Steak. The Original Philly Cheesesteak Co. shows you all the tools and ingredients you will need and take you through the cooking process. Enjoy!
Philly Stromboli
If you love Stromboli, there's just one true Philly stromboli and that comes from Romano's as any good Philadelphian will tell you. You can order a variety of different styles directly from their website and learn the history of the World's First Stromboli Sandwich!
Hoagies Done the Philly Way
You can't visit Philly without trying an authentic hoagie sandwich, and Ricci's Hoagies was voted Best of Philly 2017. You can't go wrong with a Ricci hoagie on game day! If you can't make it to Ricci's Hoagies on game day, SheKnows has an amazing authentic italian hoagie recipe to help you create your own at home.
Philadelphia Soft Pretzels
If you are looking for something soft and warm to nosh on, there is nothing like an authentic Philly Soft Pretzel. I love mine dipped in Herlocher's Mustard and this recipe from Alton Brown for soft pretzels is as close as you can get to the real thing!
Philly Water Ice
You can't get more authentic than some delicious Philly Water Ice. Tracie over at Cleverly Inspired has an amazing Philly Water Ice Recipe to share that will have you making this personal favorite over and over and over again!
Irish Potato Candy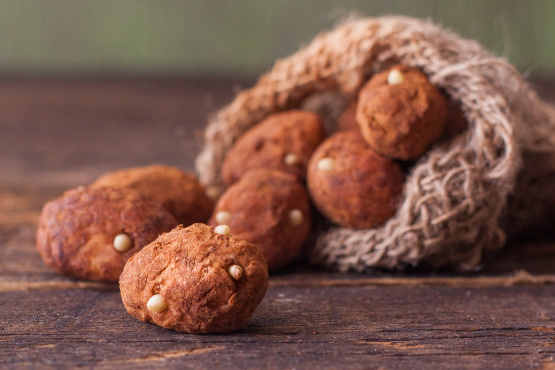 Contrary to popular belief, Irish Potato Candy does not come from Ireland. This original Philly treat is popular around St. Patrick's Day but is so easy to make, you can whip up a batch any time you'd like! Grab this simple 6-ingredient recipe here.
Texas Tommy Hot Dogs
There's nothing better than a good old Texas Tommy Hot Dog. Popular with 1950s housewives and on almost every greasy spoon menu in Philadelphia, Eastern Pennsylvania, and South Jersey, the Texas Tommy is a grilled and split hot dog loaded with bacon and lots of cheese. Other condiments are optional but not necessary.
Halftime Drinks
It's time to celebrate Justin Timberlake's new album and his return to an amazing halftime performance, Angry Orchard's mixology partner Jeremy Oertel has created the Man of the Orchard cocktail.
This delicious cocktail uses the delicious Angry Orchard Crisp Apple. It's crisp and refreshing taste makes it a great alternative to both beer and wine. Drink it straight from the bottle, mix it up in a cocktail, or just grab a 6-pack or two for the Big Game!
[amd-yrecipe-recipe:18]
More Authentic Food from Philly
If you're looking for additional authentic Philly items to have round your Super Bowl table, consider some Hires Root Beer, funnel cakes, whoopie pies, Herr's snacks, and don't forget the all important TastyKakes (my favorites are the Butterscotch Krimpets and the Peanut Butter Kandy Kakes!) and to round out the fun for you beer lovers, don't forget to include some Yuengling!
If you'd like more great Super Bowl Party food ideas, be sure to check out our Super Bowl board under our Food for All Seasons Pinterest board!
Peace and Blessings til the next post,
Kim @ Life in a House
Pinterest | Instagram | Facebook | Twitter | Zazzle | Billboard | Flipboard | Bloglovin' | Great Gift Ideas on Amazon
---
I have hungry teenagers. Who eat constantly. As a result, you may find affiliate links to products and services in this post. If you click on one of our links and make a purchase, we will earn a small commission that will enable me to feed the bottomless pits or buy myself a glass of wine to keep my sanity intact.
We also don't want to anger the Federal Trade Commission so in accordance with the FTC Guidelines, we want you to know that we may receive products, money, or other forms of compensation for reviews, posts and/or advertisements. All opinions are 100% our own and simply put, if we don't like it, you won't find it here because we won't endorse it. We bring you valuable, informative information and fun products to enhance your life because we're all about sharing the cool stuff. Simply said, this blog accepts forms of cash advertising, sponsorship, paid insertions or other forms of compensation. The views and opinions expressed on this blog are purely my own. Any product claim, statistic, quote or other representation about a product or service should be verified with the manufacturer, provider or party in question.
Oh, and just to make the folks at Amazon happy, here's our disclosure for that too - Life in a House is a participant in the Amazon Services LLC Associates Program, an affiliate advertising program designed to provide a means for sites to earn advertising fees by advertising and linking to Amazon.com.